General Info
[
]
What
[
]
A heuristic is a function that estimates how close a state is to a goal state
Details
[
]
A heuristic is designed for a particular search problem
Admissability
[
]
What
[
]
A heuristic is admissible if its estimate from a state to a goal state is not more than the actual cost from a state to the nearest goal state.
Definition
[
]
A heuristic
is defined to be admissible if
where
is the true cost from the current state to a goal state
Implications
[
]
For A Star Search, having an admissable heuristic guarantees optimality
Proving
[
]
Proving admissability can be done in two ways:
Explain the relaxed problem
Prove that the heuristic describes a lower bound on the problem. In other words, prove that there is no way to solve the search problem with lower cost than your heuristic predicts
Consistency
[
]
What
[
]
Consistency is saying that each arc in the graph must also be admissable. Imagine there are two nodes A and C. There is some real cost in moving from A to C. The heuristic estimates that the cost will be
. The heuristic is consistent only if the difference is less than or equal to the actual cost.
Definition
[
]
Implications
[
]
A Star Graph Search is always optimal
The f value along a path will never decrease
Dominance
[
]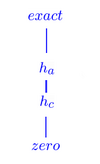 What
[
]
An admissable heuristic dominates another admissable heuristic if for all states, it gives a higher value
Definition
[
]
where
and are admissable heuristics
Implications
[
]
If an admissible heuristic better heuristic for using in A Star Search
dominates another admissable heuristic , then it is a
Semi-Lattice
[
]

What
[
]
Two admissable heuristics can form another admissable heuristic called a semi-lattice. The semi-lattice returns the higher value between the two heuristics given any state.
Definition
[
]
where
is a semi-lattice
Implications
[
]
The max of two admissable heuristics is also admissable
Given two admissable heuristics that don't dominate each other, we can always make a better heuristic by simply taking the max of the two heuristic values